Do you want to try unrestrained but safe sports? I think Waydoo Flyer ONE eFoil can help you achieve the water glide to your heart's content. Having electric-powered propellers built into their masts gives extra power when there are no waves, which means users can go surfing on flat seas and even on lakes and rivers. When your board is not dependent on wind or waves, you can ride anywhere, anytime.
1. HIGH SPEED:
Powered by a robust propulsion system, you can ride up to 35km/h(22mph). With a 24-speed adjustable power, you will have a fantastic moment when you glide across the water, depending on your skill level and ride type. But you don't need to worry that you can't ride at that speed if you are a beginner. It has a wireless remote control to adjust the speed. Also, Waydoo offers an optional inflatable pod as well as various customization options, such as differently sized masts and fins to cater to your need.
2. GO LIGHTLY:
Our boards are made from high-density expanded polypropylene or EPP foam. It can reduce the weight of the equipment you ride, thus having a better sense of gliding experience.
With the jet one controller, you can simply use the trigger button and "+" or "-" buttons to accelerate or slow down your eFoil. Alongside its IP68 rating, the controller also comes with a rechargeable lithium-ion battery lasting up to 10 hours with a single charge.
3. LONG LIFE SPAN:
Our boards are equipped with a powerful battery, allowing you to ride for up to 85 minutes, roughly 22 miles, to enjoy the view further away. And it will give you a warning at 20% to make sure you can go back to the shore in time. Also, the battery is protected against water thanks to the IP67 standard. And the smart Battery Management System will better ensure your safety.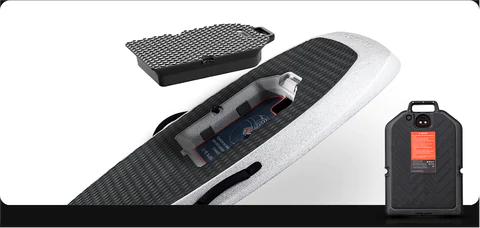 Fast, quiet, and emission-free, the Flyer ONE eFoil creates the ultimate flying experience. After the exhaustion of work and life, come and experience this carefree feeling!